Atmosphere® SmartFlows Quick Start Guide
Overview
Atmosphere® SmartFlows is an intuitive platform that anyone can use to create and manage omni-channel communication workflows. Created by our team of customer experience experts, Atmosphere® SmartFlows is flexible and powerful enough to create applications tailored to your specific business workflows and customer interactions. Whether you are in marketing, customer support, or just short on development resources, it's easy to build, automate, and integrate communications anywhere your business needs it—no coding required!
Creating automated interactions is a breeze with Atmosphere® SmartFlows. Simply drag and drop actions and connect them together into flows. Streamline business processes by integrating communications into your other business applications, such as CRM, marketing automation, contact center software, billing systems, and more.
Getting Started
Before you start building your first flow check out the Getting Started with SmartFlows page for tips on planning out a flow.
Once you're ready to start building, log in to your account through the IntelePeer Customer Portal (https://customer.intelepeer.com) or the Atmosphere® CPaaS Portal (https://atmosphere.intelepeer.com). Our recommended browsers are the current or most recent versions of Chrome, Firefox, or Safari.
IntelePeer Customer Portal
Your applications will appear at the top of the page. You can also click My Applications in the side bar to access the Marketplace.

You will see the SmartFlows icon in the Marketplace. Click the icon to open the SmartFlows application.
Atmosphere® CPaaS Portal
Click SmartFlows in the menu bar at the top of the page to get started.

Learning the Landscape
Terms
There are a few terms that you'll need to know. We cover everything throughout this User Guide, but if you need to look something up quickly, you can find definitions in the Atmosphere® SmartFlows Glossary.
Flows Page
When opening SmartFlows, you will be brought to the Flows page.
You can filter to only show deployed flows by toggling at the top of the screen.
You can also see who created or modified a flow and when it happened.
At the left-hand side of the screen, you will see four options:
Portal – Return to the Atmosphere® portal.
Flows – Manage your existing flows and create new ones.
Audio Library – Upload and find audio files.
Assignment – Assign flows to phone numbers, short codes, and social messaging IDs.
This menu can be collapsed or expanded using the arrow at the top.
Above the list of saved flows you've created, you will see the plus sign button to create a new flow.
Start Building Flows
A Flow is the overall journey that your end-user experiences. Flows are built using the drag and drop tools. They are comprised of Actions, Configurations, Connectors, and Blocks. Once you start building, this is what a flow might look like.
To start, click the plus sign icon and New Flow. You will be brought to the screen below.
On the left-hand side of your screen, you will find your list of Actions. Actions can be dragged from this menu to the Board in the middle of the screen.
Use the search bar at the top to find specific actions. Actions are divided into collapsible sections named: Triggers, Voice, Messaging, Flow Logic, Call Recording, Intelligent Assistant, and Natural Language Processing. Any actions that are greyed out, are currently unavailable due to maintenance and will be available shortly.
Click Actions to change view to the icon setting.
On the right-side of the screen, you will find your flow settings.
Details
Flow ID: The specific ID for each individual flow.
Name: Create a name for your flow.
Description: Add a description
Settings
Time Zone: Enter a location to select a time zone.
Default TTS: Select default Text-to-Speech (TTS) settings so they do not have to be reconfigured in every action containing TTS capabilities.
Vendor: Choose which cloud vendor you would like to use.
Voice: Select the voice you would like your caller to hear.
Default Error Audio: Configure audio settings for Timeout and Invalid across all actions within your flow.
Event Handler
Configure any flow exit actions, such as a post call survey, API call, or notification.
Sharing
Select whether your flow should be public, private, or share it with specific users. For more information on sharing, please see the Collaboration section of this guide.
History
View and revert back to past saved versions of your flow.
Board Elements
The Board is the graphical canvas on which you build each flow. Drag and drop actions onto the board to start building.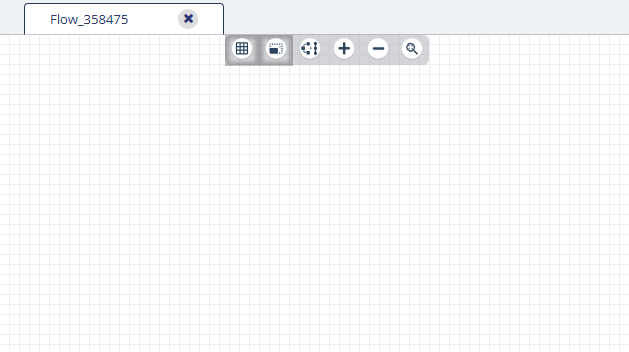 You can zoom in and out on the board using the buttons at the top center. There is also an option to change the appearance of the Blocks and Connectors.
Any other flows that you have created and saved appear as tabs above your board.
Sample Flow
Now, you can start building your flow. Let's start with something simple – an inbound call with sentiment analysis. Find Inbound Call under your list of Triggers. Drag and drop the block onto your board.
After dropping Inbound Call on your board, the configurations will appear on the right side of the board.
Each action has required and optional configurations. The configurations will appear on the right-hand side of the board when you select an action.
Configurations include inputs and paths.
Find Play Audio under your Voice actions and drag the block onto your board.
Now, click the Port on the right side of the Inbound Call block and drag the Connector to the port on the left side of the Play Audio block.
A Port is where a connector attaches to an action. An action can have multiple ports.
A Connector is the cord that links the actions. What's cool is that if you click on a connector, it will highlight the path to the next action. This helps you keep your place, especially as your flows start to grow in complexity.
Continue to drag and drop: Record Response, Speech Recog, Switch, Transfer, and Send SMS onto your board. Your flow should look like the photo below.
Click on each action and complete the following configurations:
Play Audio
You have the option to use our text-to-speech capabilities or to play a pre-recorded audio file. Click Configure Audio, then enter your message in the Audio Text (TTS) section for text-to-speech or add new or select existing audio files in the Audio Library section.
Check out Configure Audio Settings for more information.
Record Response
Speech Recognition
Switch
Transfer
Enter the number you would like to transfer the call to. In the Specify From # field, click the magnifying glass icon to choose from existing numbers in your inventory.
SMS
Now that you've built the flow, you can Save and Deploy it.
Note: If you have the Starter package, you can create and deploy one flow at a time, while Professional and Enterprise users can deploy unlimited flows.
Click anywhere on the board to reveal the Save and Deploy buttons. Save ensures that you don't lose changes to your flow if you navigate away and confirms all necessary configurations have been completed and that the flow is functional. Once you know that a flow is valid, it's time to deploy! Clicking Deploy means your flow is active and ready for use if there is a number associated with it. Once your flow is deployed, visit the Number Assignment page to assign a number to your flow.
Let's explore what the customer will experience. A user calls in, which triggers the flow. Then, audio will play. For the audio recording, you have the option to use SmartFlows' text-to-speech feature or you can upload your own audio files. The caller will speak after the audio plays. Their response will be recorded and the sentiment will be analyzed through the Speech Recog action. Depending on whether their response is positive or negative, the Switch action will either transfer the caller to a different department or send them an SMS with a coupon thanking them for their feedback.
This is a very basic flow to get you started. There many ways that you can route a caller when they call in. For instance, here is what a simple IVR with four options might look like:
Collaboration
A flow can be made private or shared with any number of other users for added control or collaboration, depending on the situation.
To open these sharing options, go into the flow you want to share and click anywhere on the board to open the Flow Metadata screen.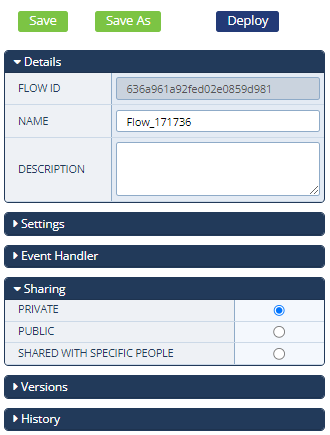 The following options are available:
Private: Only I can edit my flow
Public: Everyone in my account can see and edit my flow
Shared with Specific People: People I have added can see and edit my flow
To share with others on your team, you will need their User IDs. This is the credential that they use to log in to Atmosphere® applications and is visible on any flows they have created in the Flows page:
Click Shared with Specific People. This will open a new section with an input box to enter the User ID.
Note: This needs to be an exact match to the User ID in order to be shared; please double-check for the correct spelling.
Click the Add button once the User ID is entered to share and you will see the User ID at the bottom of the box indicating that a user matching that ID will be able to view and edit your flow.
Using Templates
Templates allow users to save time by creating a flow once that can be used as many times as you need.
To start using templates, navigate to the Flows page, click the plus sign, then click Template.
A pop-up will appear with a list of templates that are available to you. Select which template you would like to build your new flow off of.
The flow you've selected will appear on your board as "TemplateName_copy". You can customize the template and complete the configurations to better suit your needs.
Once you've reconfigured the actions, Save and Deploy!
Integrating with Atmosphere® Engage
What is Atmosphere® Engage?
Atmosphere® Engage is a simple and effective way to manage, execute, and measure SMS and voice campaigns with your contacts. This ready-to-use application allows you to focus less on the technical side of building campaigns, and more on engaging with your target audience.
How can you use Atmosphere® Engage and SmartFlows together?
While SmartFlows lets you build custom flows, Engage lets you easily execute them. By creating your flows in SmartFlows and using Engage to send outbound communications, you have the ability to connect with your audience in an effective and personalized way.
Let's look at an example. Say you would like to send out an appointment reminder phone call. Build your flow to look like the one below.
Once you build and save a flow in SmartFlows, it will become available to use for an Engage campaign.
To access Engage:
From the IntelePeer Customer Portal (http://customer.intelepeer.com) click Portal at the top of the SmartFlows side menu. Engage should appear in My Applications, where you would also navigate to SmartFlows, if you have already added it to your IntelePeer services.

When you open Engage, you will be brought to the Campaigns screen which will display all your already created Campaigns like this:
Choose the campaign you would like to connect to SmartFlows or click the plus sign to create a new one. Inside the Campaign configuration form, there is a field asking what type of campaign you would like to run. Select Custom and select the applicable flow from the drop-down list.

Once you save and publish your campaign, you will be able to run it. Return to the Campaigns page and find the campaign you created. By clicking the Run button, your campaign will activate and initiate the flow you've built.
For more a more in-depth guide to building campaigns in Engage, check out the Atmosphere® Engage Quick Start Guide.
Audio Library
Here you will manage recordings that are captured during flows and recordings that you upload to play during call flows.
Check out the Audio Library Page for more information about managing your existing audio files and adding new ones.
Number Assignment
Here you will view and assign your CPaaS-enabled numbers provided by IntelePeer. Enable a number for CPaaS use through the Atmosphere® CPaaS Portal or the IntelePeer Customer Portal. You'll be able to determine which numbers are assigned to which flows, and whether they're enabled with Voice or SMS. Multiple numbers can be assigned to the same flow.
Simply click the check box next to the number you would like to assign and click Assign Flow.
When you click Assign Flow you will see a list of flows that you've deployed. Find the flow that you would like to assign and click Assign.
Check out the Number Assignment Page to learn more about viewing and managing assigned numbers.