Call Menu
This is a Call Menu with four options to select: two will Play Audio (like hours of operation) and two will Transfer to another department.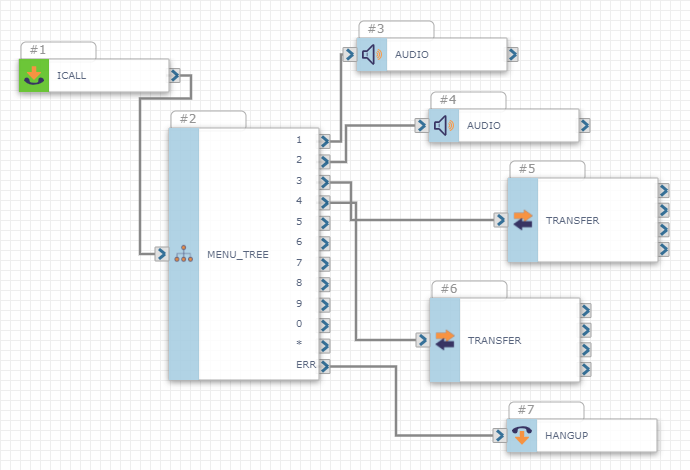 Actions
Inbound Call – The Inbound Call trigger prepares the flow for a call.
Menu Tree – Gives options to the caller about what they are calling in about. Each port corresponds with the number key that the caller selects.
Play Audio – Play an audio file or use text-to-speech to communicate to your caller.
To play an audio file, upload the file into your Audio Library. When your file is uploaded, it will appear under the Audio Library drop-down in the Configure Audio window.
To use text-to-speech, click Configure Audio and build the message in the Audio Text (TTS) section. Default or customize your Vendor and Voice options and enter the message in the text box. Click the blue plus sign to add the message. Your message and selected settings will appear on the left side of the window.
Transfer – Transfer the caller to another department. From top to bottom, each port signifies what to do:
On Answer
On Hang-up
On Answer
On User Busy
Hang Up – Flows that are phone calls need to properly end the call. There are no inputs, so simply drag the action onto the board and connect it to the end of the flow.