Day of Week
Day of Week adds logic that determines the day of the week and what occurs in the flow as a result. You can follow this action with another control action, such as Switch, to refine the process even more based on the time of day, geography of the caller, and more.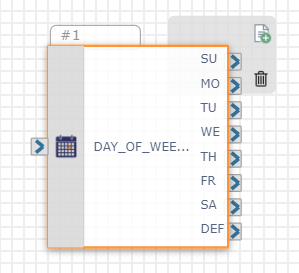 Note: The functionality of this action can be voice- or text-related.
Exit Ports
The exit ports represent each day of the week. If it is that day, the flow will continue through the corresponding port.
DEF: If there happens to be an error that occurs with the day of the week, the flow will not stop because of the error, and will continue through the default actions.
Templates
You can find the Day of Week action in the IVR template.