Atmosphere® SMS Messaging Short Codes Ordering Process
Overview
With Atmosphere® Messaging, you can enable your business phone numbers to send and receive SMS. In the US, IntelePeer supports sending via either a Dedicated Random or Dedicated Vanity Short Code, both of which are enabled for 2-way communications.
Random short codes are 5 or 6-digit numbers that are randomly chosen by the carriers and have no significance. Vanity short codes are 5 or 6-digit numbers that are specifically chosen by a business for many different reasons such as a specific meaning (for example, 247 could be for showing a business is open 24 days, 7 days a week), spelling something out on a phone dial pad which is the alphanumeric equivalent to a word, or just something easy to remember. They are completely customizable and unique.
Ordering Process
When ordering a Short Code, you must first complete a Campaign Approval Form or CAF, which will help to define your campaign. Due diligence up front will help you avoid time-consuming compliance issues down the road and help ensure better delivery. Once submitted, the CAF can take 6-14 weeks to be approved by the carriers.
The CAF process begins on the Home Package. Start the process by clicking +Add in the Short Codes section of My Numbers.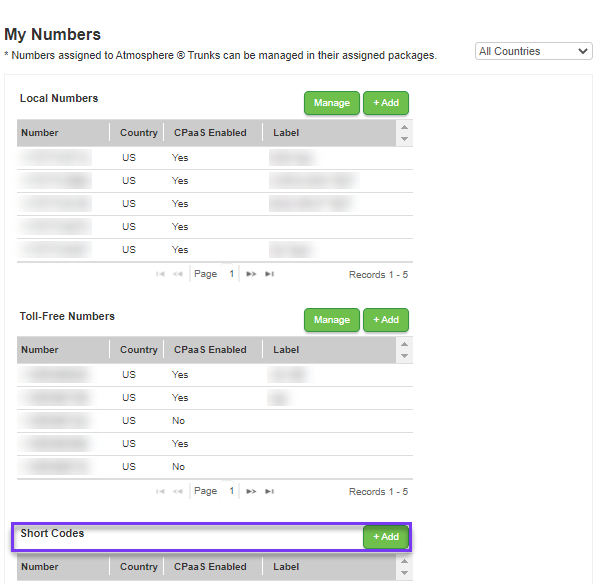 The Order Details page requires you to choose the specifics of your campaign such as Country, Type, and Purpose by clicking on the drop-down menus.

Select your Country. Specifications are subject to change depending on the Country selected.
Select the Type: One-Way Messaging (Alphanumeric Code) or Short Code. Alphanumeric Sender ID allows you to set your company name or brand or any other code as the Sender ID when sending one-way SMS messages to supported countries. Alphanumeric Sender IDs are limited to 11 characters. The code you select cannot be solely numeric. Accepted characters include both upper- and lower-case ASCII letters, the digits 0 through 9, and space: A-Z, a-z, 0-9. Not all countries support this feature.
If One-Way Messaging (Alphanumeric Code) is selected remember the Desired Sender ID must be 11 characters or less, with no spaces.
After the Type is selected choose the Purpose of your Short Code.
Next, complete the Specifications tab by filling in the required fields.
Note: The Specifications section automatically populates based on your campaign Country, Type, and Purpose specifications.
Remember a central part of the campaign approval process is providing some examples of how your campaign is set up, especially with regard to customer interactions. The specifications are vital to the success of any campaign.