Smart Routing
Use this app to intelligently route voice calls based on percent allocation, day of the week, or time of day.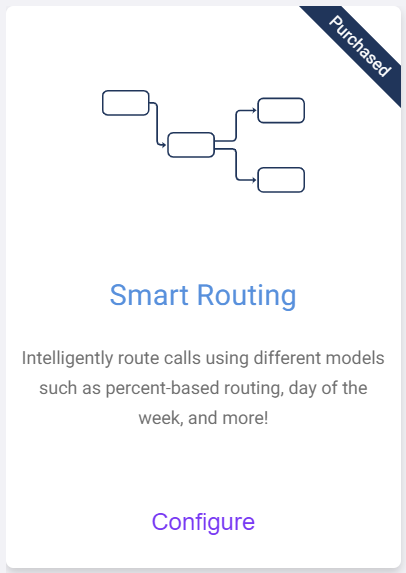 Percent allocation routing could be used to distribute calls so one contact center isn't overloaded, improving the customer experience with shorter wait times.
Day of the week routing could be used to direct calls to a different number on the weekends vs. weekdays.
Time of day routing could be used to direct calls based on time zone and agent availability. For example, if a call comes in at 7 PM EST it can be routed to the number for agents on the west coast who are still available at 4 PM PST.
Configurations
Choose Model: Percent Allocation, Day of Week, or Time of Day.
The other configuration options will change depending on which model you choose.
Percent Allocation
Number of Paths: Choose the number of available routes. You can choose 2-4 routes.

Percent Split: Assign a percentage and number to each of the available routes.

Note: Your percentages must add up to 100 and a number must be associated with each route.
Day of Week
Pick Days: Click the check box next to each day of the week that will not follow the default route.

Assign a number to each selected day of the week and the default route field.

Note: You can use the same number for multiple days (e.g., you could use the same number for Tuesday and Thursday, a second number for Saturday and Sunday, and the default number for Monday, Wednesday, Friday).
Time of Day
Select Timezone: From the drop-down list, select your timezone.

Groups: Choose the number of specific time spans you want to define. You can choose 1-4 groups.

Time Intervals: For each group, set the specific start/end times and assign a number to each group and the default route.

For example: You could use the default route for the east coast contact center. Then Group 1 could route to the west coast contact center from 5 PM-9 PM, Group 2 could route to the overnight contact center from 9 PM-1 AM, etc.

Note: We recommend making sure your group time intervals do not overlap. If there is overlap, the call will route to the first match (e.g., if Group 1 is 9 AM to 5 PM and Group 2 is noon to 8 PM, a call received at 2 PM will route to Group 1).
Once your Smart Routing app is configured and deployed, the final step is to assign a phone number to it.