Post-Call Survey
Use this app to build a survey for customer feedback.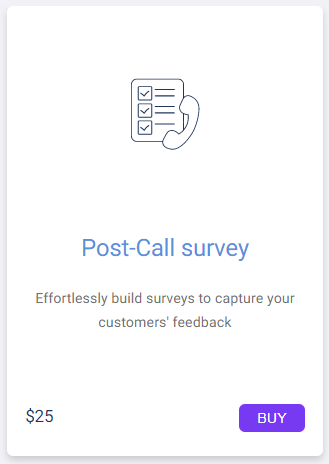 A Post-Call Survey gives callers the opportunity to provide feedback on their interaction and collects their feedback. For example, after resolving a helpdesk issue, the customer agrees to take a survey and is automatically transferred to answer questions about their support experience.
Configurations
Assign Audio: Create Text-to-Speech (TTS) or select an audio file to greet the caller.

On the Audio Settings pop-up, make sure Audio Text (TTS) is selected for TTS, or Audio Library for a recorded audio file, at the top of the page.

For Audio Text (TTS), select the vendor and voice you want to use from the drop-down lists.

Note: By default, vendor IBM and voice Lisa American English are used for any TTS.

Then add the greeting to the text box.

For the Audio Library, click on the audio file you want to use or click the upload icon to add a new audio file to your account.

Number of Questions: Pick how many questions the caller will answer within the survey. You can choose 1-10 questions.

Assign Questions Audio: For each of the survey questions selected above, assign an audio message.

For example, question 1 might include the TTS message "On a scale from 1-5, with 5 being excellent, how was your helpdesk experience?"

Audio Feedback: Assign additional audio messages for the following scenarios:

Survey Completion Audio: This audio message plays when the caller successfully completes the survey.

Time Out Audio: This audio message plays when a caller doesn't provide feedback within the allotted timeframe (i.e., 10 seconds).

Invalid Survey Ending Audio: This audio message plays when a caller provides invalid feedback three times and the call is ending.

Note: If a caller provides invalid feedback once or twice, the question audio will be played again. But on the third failed attempt, the Invalid Survey Ending audio will play.
Once your Post-Call Survey app is configured and deployed, the final step is to assign a phone number to it.
Survey Results
Survey results are saved within List Management and the survey name is included. Make sure to give your app a unique name, especially if you are creating multiple post-call surveys, to quickly identify the relevant results. To change the default app name, go to the Installed tab and click on the edit icon to the right of an app Name.