Business Continuity Planning
Use this app to prevent any communication interruptions in the event of an unexpected issue or outage.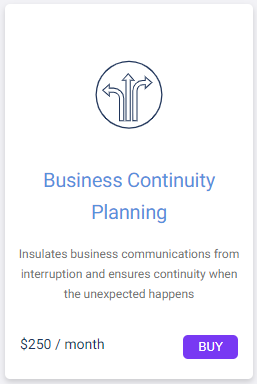 The Business Continuity Planning app can be used to monitor calls that are unable to reach your main number, notify a designated point of contact about the issue, attempt to transfer the failed call to two other backup numbers, and, if all phone lines fail, prompt the caller to leave a callback number or message.
For example, if your primary company phone line was down due to inclement weather at the Denver headquarters, your designated contact (e.g., Head of IT) would receive a message about the issue, and all calls to the primary line would be transfer to the secondary phone number (e.g., the main line at the San Mateo branch).
At a high level, to create a new Business Continuity Planning app you must complete the following steps:
Note: The number you assign to the app in step 6 (after it's fully configured) can be the same as the primary phone number assigned in step 1.
Configurations
Once your Business Continuity Planning app is configured and deployed, the final step is to assign a phone number to it.